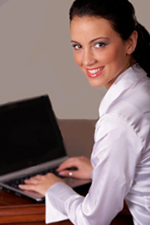 Compass Realty Systems provides the finest Virtual Assistant services in the real estate industry to our growing list of clientele. We match the job to the individual. When our clientele have a need for licensed help, we deliver. If their requirements do not necessitate a license, they get that, too. In either case, services are provided on demand.

Do you have the professional skills required to support our users of Virtual Assistants? Can you you work from a remote location and deliver superior services, and meet strict deadlines? If so, you should investigate joining our team.

If you don't have a real estate license but would like to obtain one, we can guide you through the process. If you have a license that has gone "inactive," we have a place for you to park your license and earn referral fees in addition to your virtual assistant income.

To learn more, call us today at 314-414-2020. Let's see if you have what it takes to join our team and support agents, brokers and owners of companies in the fast-paced real estate industry.

Copyright © 2012 Compass Realty Systems, LLC  All Rights Reserved.

No portion of this website or downloadable files may be reproduced without written permission.